Biomimicry is the use of patterns found in nature, or characteristics of the natural world, in human inventions.
What is Biomimicry?
According to The Biomimicry Institute: "a new discipline that studies nature's best ideas and then imitates these designs and processes to solve human problems" (retrieved from: http://biomimicryinstitute.org/about-us/what-is-biomimicry.html).
Nature has developed some amazing adaptations, and humans have been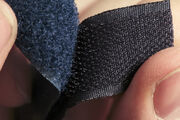 drawing inspiration from nature for centuries. One of the most notable examples of biomimicry is Velcro, inspired by the burdock burr (retrieved from: http://www.velcro.com/About-Us/History.aspx#.UpvjkOIjBIM).
More examples of biomimicry
Whale fin -> wind turbine.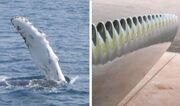 Shark skin -> racincg swim suit: http://www.popsci.com/technology/article/2012-07/speedos-super-fast-sharkskin-inspired-swimsuit-actually-nothing-sharks-skin
For more amazing examples of biomimicry, visit these pages:
http://biomimicry.net/about/biomimicry/case-examples/
http://www.bloomberg.com/slideshow/2013-08-18/14-smart-inventions-inspired-by-nature-biomimicry.html
http://www.bbc.co.uk/news/business-15480620
Learn more!
The Smithsonian offers a well-written article about biomimicry: http://www.smithsonianmag.com/science-nature/How-Biomimicry-is-Inspiring-Human-Innovation-165592706.html
Janine Benyus, the president of the Biomimicry Institute, featured in the video above, presented a TED talk about Biomimicry, which can be found here: www.ted.com/talks/janine_benyus_biomimicry_in_action.html