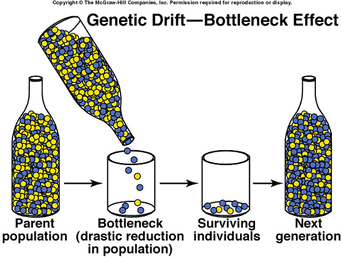 Bottleneck Effect
What is it?:
Genetic drift can cause big losses of genetic variation for small populations.
Population bottlenecks occur when a population's size is reduced for at least one generation. Because genetic drift  acts more quickly to reduce genetic variation in small populations, undergoing a bottleneck can reduce a population's genetic variation by a lot, even if the bottleneck doesn't last for very many generations. 
Northern Elephant Seals
Northern elephant seals have reduced genetic variation probably because of a population bottleneck humans inflicted on them in the 1890s. Hunting reduced their population size to as few as 20 individuals at the end of the 19th century. Their population has since rebounded to over 30,000—but their genesstill carry the marks of this bottleneck: they have much less genetic variation than a population of southern elephant seals that was not so intensely hunted.
Cheetahs
As a species, cheetahs have famously low levels of genetic variation. This can probably be attributed to a population bottleneck they experienced around 10,000 years ago, barely avoiding extinction at the end of the last ice age. However, the situation has worsened in modern times. Habitat encroachment and poaching have further reduce cheetah numbers, consequently snuffing out even more genetic variation and leaving cheetahs even more vulnerable to extinction.
References
Gottelli, D., Wang, J., Bashir, S., and Durant, S. M. (2007). Genetic analysis reveals promiscuity among female cheetahs. Proceedings of the Royal Society B 274(1621):1993-2001.
Understanding Evolution. (2013). Evolution 101. Berkeley. http://evolution.berkeley.edu/evolibrary/home.php